BestekWaterproof Shoulder Canvas Bag for Digital Camera with Shockproof Insert is an multiple functional shoulder bag that holds all of yourpersonal gear, A removable, shockproof insert Bestek camera bag protects acamera with media accessories, inside the removable insert are two softdividers, enabling specific equipment setup. To fully secure it on the handleof your rolling suitcase. Big enough to protect all your devices and still holda light jacket, toiletries, and files. A padded compartment holds most cameras,while the front pocket on the Bestek camera bags stores media accessories andpersonal items. The medium messenger bag with easy-access pockets to holdaccessories you want close at hand, plus it can be carried with a handle, Carryall your gear in one bag with the BestekWaterproof Canvas DSLR Camera Shoulder Bag. The Quality materials andlogical organization ensure your camera is stored safely.
If you are looking for a well built andsome of the small details are truly leather .The Bestek Waterproof Canvas DSLR Camera Shoulder Bag will be the unexpectedchoice at this price range. Most of this style of bag that in the market shouldbe double the price. It comes with a nice soft protective camera/lenscompartment and two customizabledividers. It could give plenty space for a DSLR and a lens or two. Thepadded compartment is removable and the space in the main pocket could protectthe camera well. There are two button down pockets on each side that can hold asmall water bottle or additional gear and on the front there is a larger zippocket with plenty of space for sunglasses, SD cards and the other spare stuffs.This bag to anyone should be a budget price.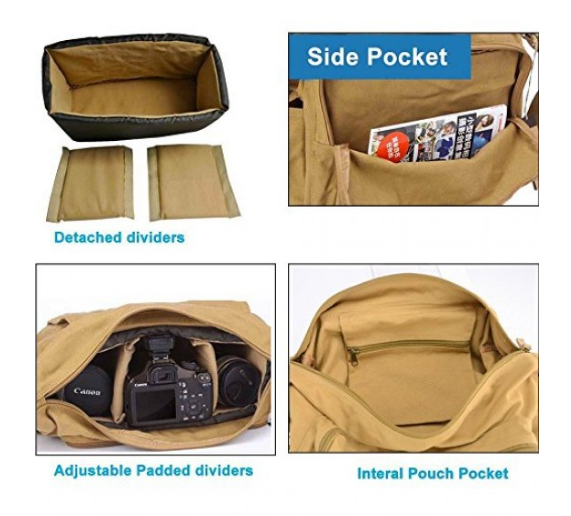 Waterproof Canvas DSLR Camera Shoulder BagKey Features:
·Greatcompartments for various things, DSLR camera, 2 lenses, flash, phone, chargers,tablet, etc.
·Canvas
Share it to: